Where to Find Your School's Supply Lists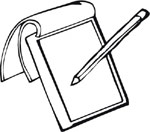 Towards the end of summer, the school secretary will often send a letter or an email out to parents of returning students that includes a link to the school supply lists for each grade. If you don't receive a letter or an email, you can call your child's school office to get assistance from the school secretary and office staff.

It can sometimes be difficult to reach school staff during summer hours, so you might check the school's website or the school district's website for a supply list section. By midsummer, some schools or districts will post school supply lists for each grade level on their website. More specific lists may be posted or distributed by the school later in the summer, once teachers have returned from vacation, received their classroom assignments and submitted their "wish lists" of required supplies for the coming year.

Closer to the beginning of the new school year, you may contact your school office to find out your child's assigned teacher. The office may provide you with the assigned teacher's phone extension or email address so you can communicate directly about the supplies your child may need during the school year. Once the school year has started, teachers may also provide parents with a handout listing additional supplies they wish each student to have in class.