Where to Find the Best Deals on School Supplies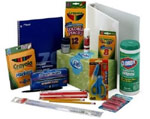 Many of the large consumer retail stores offer back-to-school sales and discount coupons for school supplies during the summer and through the month of September. These retailers also offer some great deals online, which can be a convenient and cost-effective way to fulfill your list. Be sure to search their websites for special "back-to-school" pages or links. You can also browse websites like SupplyList.com and others for coupons and special discount codes on school supplies.

For consumers shopping in the stores, discount retailers do their best to provide all the school supplies you might need in a single "back-to-school" aisle or section. If you shop early in the summer, you will likely find great selections of everything you need to stock your student's backpack or satchel at big discount chains like Office Depot, Staples, Walgreen's, Rite Aid, Dollar Tree, Target, Wal-Mart, and Kmart, among others.

If you procrastinate and end up shopping for school supplies at the last minute, you might still be able to find some good deals if you scour the Internet and the newspaper ads for some final sales. The selection may not be as good, but with a little advance research, you might still find a few bargains.